Chicago Trucking and Distribution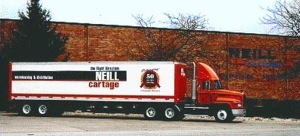 Neill Cartage is an Illinois intrastate and interstate common carrier with authority to operate within the Chicago Terminal Area, including Indiana points. Our company-owned equipment includes a fleet of tractors, trailers and straight vans equipped with hydraulic lift-gates. Direct connect cellular service between all vehicles and central dispatch in Berkeley, Illinois.

Through T.R.N. Transportation, which is a wholly owned subsidiary of Neill Cartage, we have the ability to expand our services beyond that of a local provider. TRN has interstate common carrier and contract authority in Illinois, Indiana, Iowa, Michigan and Wisconsin and is also a licensed broker of freight to all points in the contiguous 48 states. We have a network of committed carriers, allowing us to service our customers in a low-cost and timely fashion.